Mistake Number Two: Cheap Stocks
By: Charles Payne, CEO & Principal Analyst
You like to load up on cheap stocks. What is the point of buying a high priced stock when you can only get a few shares? People want to be players not odd-lot minnows swimming in a world of sharks. While this is fine and dandy, the fact of the matter is having a lot of shares of crap doesn't make it more valuable. The reality is when you have this mindset, you probably are also not properly allocating funds. Another problem with this approach is the fact that it doesn't take risk into account. Ironically, it is those that could ill-afford to loose that are more often than not the ones who decide to load up. The folks with the least amount in the market are the ones rolling the dice.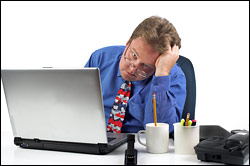 Don't get me wrong, there is a place for cheap priced stocks, but the share price doesn't denote value and in most cases stocks under $10.00 a share are actually overvalued. Our biggest concern is when folks load up on these would-be "cheapies." If stocks under $10.00 a share represent more than 15% of your portfolio you are taking a chance that isn't worth the risk. First and foremost these stocks are typically investments made on thesis (read educated hunch) about a specific product or shift in an industry paradigm. Considering that there will be scant revenue numbers from which to make assumptions and earnings will be rare.

Making Money with Only a Few Shares

The notion you need a lot of shares to make a lot of money is also preposterous, but widely accepted. If you had $6,000.00 to invest in January 2009, you could have loaded up on any number of stocks trading under $10.00 a share. We have seen hundreds of cheap stocks bite the dust or actually trade lower. Or, one could have taken the same $6000 and purchased a few shares of a high priced stock and fared very well. Maybe you wouldn't have felt like a mogul, but you would have enjoyed a substantial increase of nearly 100% in your principle investment, and that's what it's all about.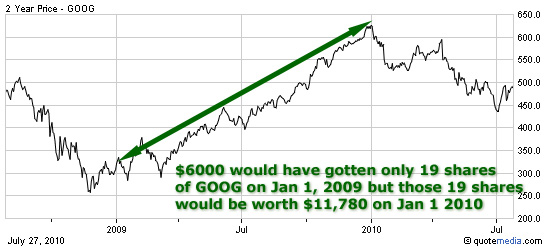 Cheap is a relative term, but not so in the stock market, cheap is clear. It is stocks that are changing hands at discounts to its intrinsic and future value. Cheap has nothing to do with share price or stock charts. Sure, buy stocks under $10.00 from time to time, we feature them all the time. But, don't exclusively load up on lower priced stocks because you think its gives you an edge or will make you richer, sooner.
Next Mistake: Imbalanced Approach
3 Mistakes that are killing your portfolio How WStreet Can Help
Now more than ever knowing what's under the hood matters. Get a free consultation.